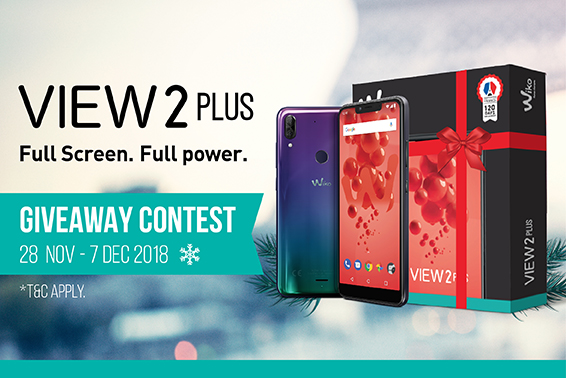 View2 Plus Giveaway Contest
Not LAVENDER Not BLEEN. I am both. Who am I?
The FUN never stops! Wiko is giving away a Wiko View2 Plus Supernova color (Lavender-Bleen) (1 unit).
Enter the Wiko Trivia and be the lucky winner to
WIN the Wiko View2 Plus!
Contest ends on Dec 7, 2018 at 11:59pm. Are you ready for the Trivia challenge?
How to participant
Answer 4 simple questions and complete a slogan (I want to win Wiko View2 Plus because...)in not more than 20 words.
Bukan LAVENDER Bukan BLEEN. Saya kedua-duanya. Siapakah saya?
Sertai Wiko Trivia dan berpeluang untuk
memenangi Wiko View2 Plus warna Supernova (Lavender-Bleen)
(1 unit). Sedia untuk cabaran Trivia ini? Kontes tamat pada Dec 7, 2018 pada 11:59pm.
Bagaimana caranya
Jawab 4 soalan dan lengkapkan slogan (Saya ingin memenangi Wiko View2 Plus kerana ....) dalam 20 patah perkataan.
T&C Apply
Trivia Tips?
Click HERE / Klik SINI
Related products
Other articles in this section: